Coors Light Maxim Model Search - The Best Beer Promotion Ever
The Coors Light Maxim Model Search has to be the best on-premise bar promotion that I have ever conducted for various reasons.
This beer promotion not only boosted Coors Light Sales, it drove thousands of consumers to on-premise accounts, it allowed me to secure draft handles and bottle placements in accounts that bud light owned and most important, it entertained everyone that participated.

The Coors Light Maxim Model Search
Coors Light was looking for a way to build excitement around their brand and what better way than entertaining their core consumers with a Model Search. Not just any model search, but one that allowed thousands of girls to compete for an opportunity to be featured in Maxim Magazine.
Guys love looking at Hot Girls, hot girls love attention and both love Maxim Magazine.
At the end of the day, Coors Light wanted to boost their sales and the best way to do that is by entertaining your consumers.


Objective of the Coors Light Promotion:
The Coors light promotion was designed to be fun and entertaining, so we allowed the guys in the locations to be the judge while I took photos of all the attractive girls that participated.
I had taken thousands of photos of some really amazing girls that had potential of being on the cover of Maxim Magazine.
Some of the locations that we visited got out of hand because some of the girls thought they were on a playboy shoot and started to take off a little too much clothing for a bar environment.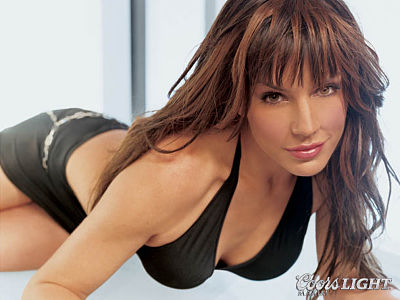 It was an amazing beer promotion and when you mix hot girls with a great tasting Coors light beer, you are going to get a great promotion with girls and guys going wild.
The guys in the accounts were trying to break down our barrier to see what the girls where doing. It had to be one of the best beer promotions I had ever done because the crowd was really into it and the bar owners loved it.
Thousands of girls showed up because they finally had an opportunity to be featured in a famous magazine that millions of guys and girls read.
Picking the perfect girl was tough, but we ended up picking one of the girls from NY as the Coors Light Maxim Model.


She was our Coors Light Maxim Model Search Winner
She had a really nice personality and she was going to law school. Who says you can't be beautiful and sexy?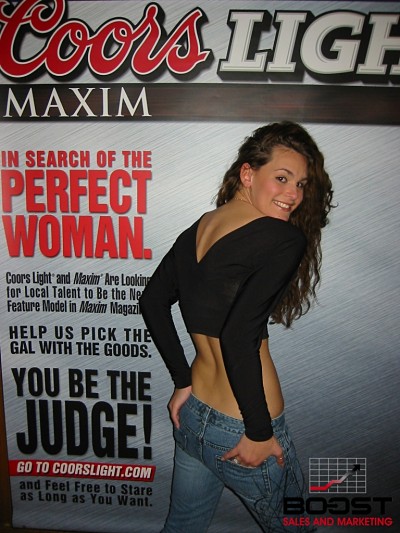 She also has a very nice look, I could easily see her on the cover of any Mens magazine.
She has a really nice body. I think she would do great as a swimsuit model.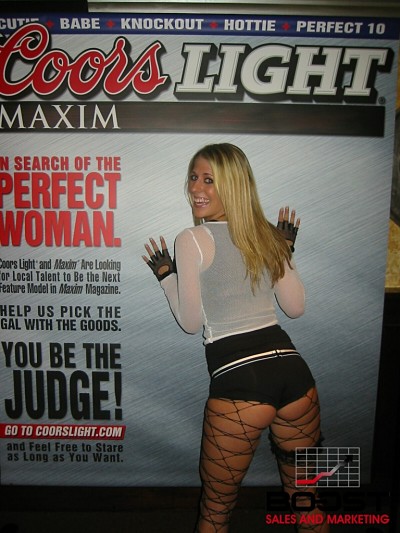 This girl worked as a shot girl at the bar we where promoting at. This account had some really hot girls working for them and their staff loved the coors light maxim model search.
One of the creative things I did was bring these shot girls some Coors Light Tank tops and have them wear them while they were working and I would have girls promoting Coors light for free....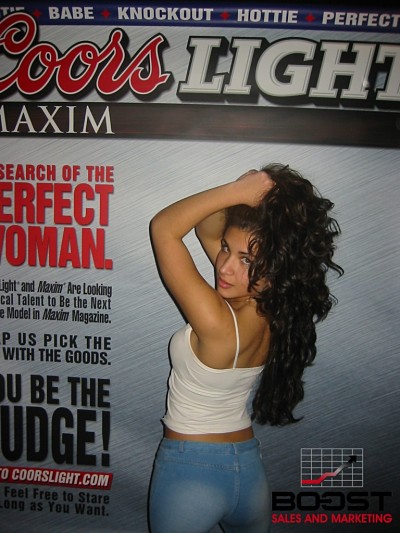 She is a gorgeous Latina Girl....and as you can see, she loves posing for the camera...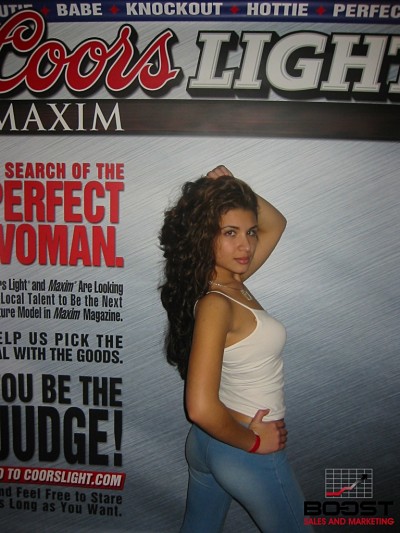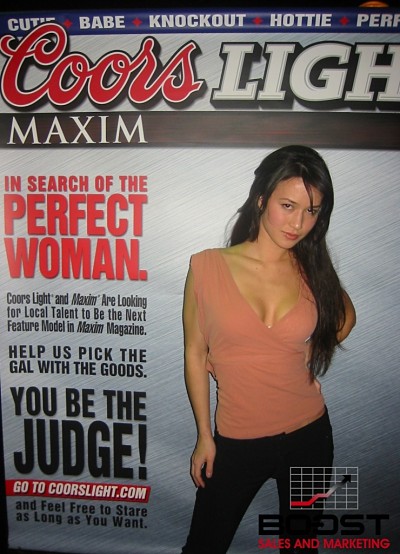 Here is a beautiful girl that I ended up hiring to do promotions for Coors Light.
I hired a couple of these girls for Coors and for Manhattan Beer Distributor. This promotion allowed me to really find some good talent.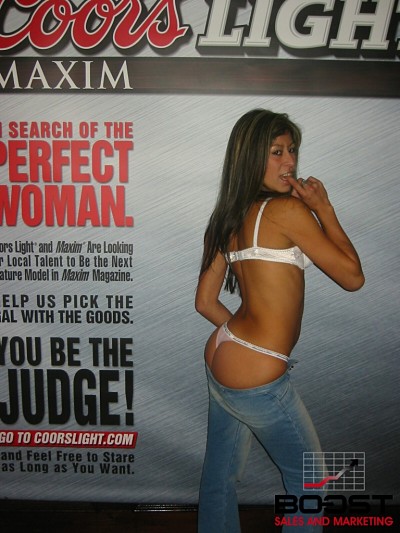 As you can tell by now, these girls had a great time taking photos. I had a very hard time picking which girl was going to represent New York and go to the super bowl where the winner was going to be chosen.
Who would you pick???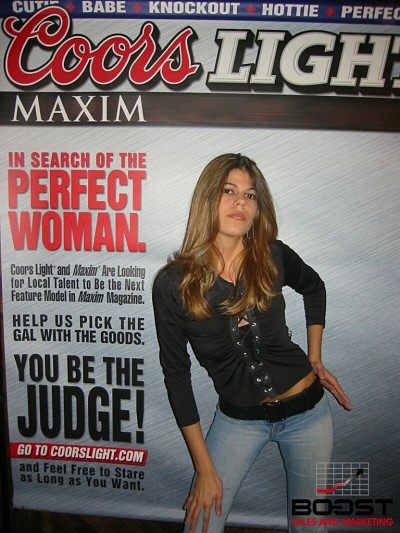 The photos and the atmosphere was getting hot and the girls were getting very comfortable taking photos.
If you want to draw attention to your brand, I suggest you do a model search because it will drive a lot of traffic to your on-premise accounts.
Whenever you do a promotion that attracts women, you will have more more male consumers falling out of the sky.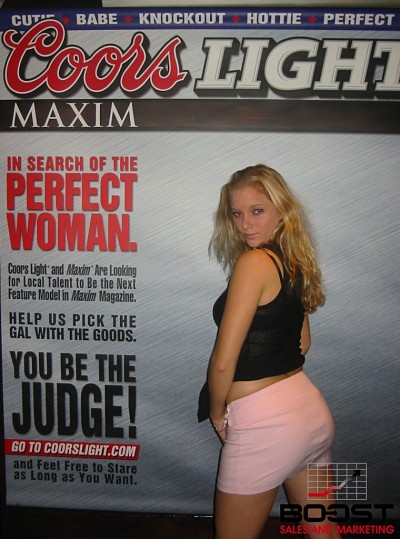 Click on any page number to view the other girls that took pictures to be the next Coors Light Maxim Girl.



Click here to Become a Coors Light Maxim Model!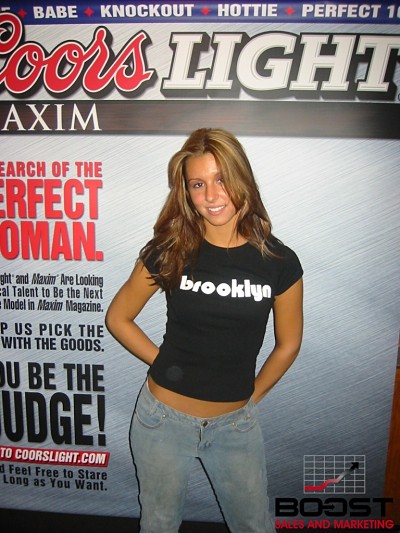 ---


Return from Coors Light Maxim Photos to Promotional Models Page