Beverage Promotional Models Get Paid to Party...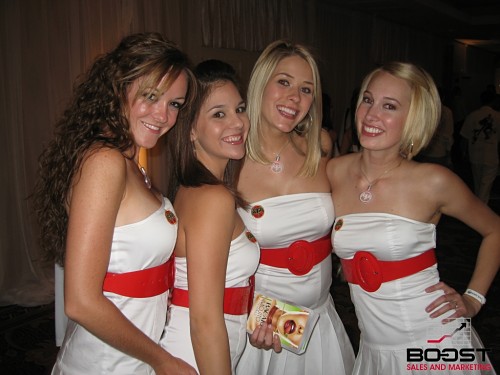 Beverage Promotional Models absolutely love promoting beverages such as Miller Lite, Bud Light, Red Bull, Bacardi and Hundreds of other beverage brands because it allows them to be the center of attention, have fun and make a lot of money.

Beverage promotional models get to dress up in some extremly sexy outfits, take pictures with a lot of people and get paid over $20 per hour promoting beverages at concerts, carshows, sporting events, vip parties and other sponsored events.

How Much Money Do Beverage Promotional Models Make?

Beverage promotional models can make a few hundred to a couple of thousands of dollars each month depending on the type of beverages, events and how many promotions they are working.
Promotional models that promote alcoholic beverages typically get paid more than promotional models that promote energy drinks because alcoholic beverages are promoted in environments where consumers can obviously get a little rowdy... plus the outfits are a little more revealing.
A Miller Lite Girl on average can make anywhere from $25-$35 dollars per hour depending on where she lives.
For Example, A Miller Lite Girl in Los Angeles, Ca will make $30 per hour. She can also make $35 per hour if she is the lead promotional model.
Beverage Spokesmodels get paid a lot of money to entertain corporate clients and their guest by signing autographs, taking pictures and providing a exciting atmosphere. ex. The "Coors Light Twins"
Diane and Elaine made thousands of dollars to appear at various Coors Light Sponsored Events.

Paul Gage with Diane and Elaine the Coors Light Twins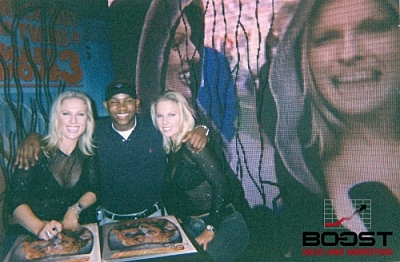 If you are interested in promoting a popular beverage and getting paid to party all the time but don't know how to get started, then...

Click Here And Learn How To Get Started Promoting Beverages


Benefits of Becoming a Beverage Promotional Model

Miller Lite Girls, Red Bull Girls, Bacardi Girls and other beverage promotional models are an exclusive group of girls that not just any girl can join.
The benefits of doing beverage promotions is that one week you can be working a promotion for Red Bull and the next week for Bacardi, there are no conflicts as long as you are not promoting for competing brands such as Bud Light and Miller Lite.
There are so many beverage promotions and events going on every day that you will never be at home sitting around bored trying to figure out what to do.

"Making Money and Having Fun Will Constantly be on Your Mind"


Watch this video so you can see how much fun the Miller Lite and Bacardi Girls Had In Palm Springs, CA...

Watch How Much Fun the Miller Lite and Bacardi Girls Are Having
---
---
Promotional Modeling will Boost Your Confidence because you are constantly getting compliments on your looks and personality.
You will feel amazing knowing that you are making money doing something you love.
Knowing that everyone in the bar or sporting event admires what you are doing will make you feel good and boost your self-esteem.
Promoting beverages will provide you with unique adventures, great money and a sense of accomplishment you will be proud of.
There are not many jobs that will pay you to have a great time, meet new friends and make people smile.
Imagine getting paid to work at events your friends have to pay to get into...now that's Unbelievable... but true.


Red Bull Girls In Hermosa Beach,Ca..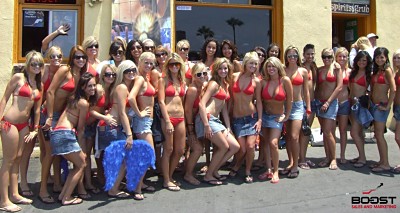 Getting These Beverage Modeling Jobs Is Not Easy...
You can imagine how many girls would love to become a beverage model for a brand such as Monster, Red Bull, Rockstar or any Major Liquor/Beer Brand.
The girls that are currently promoting these beverages definitely don't want new girls finding out how to compete with them... these girls are making thousands of dollars having the time of their lives and they would love to keep it that way.
If you want to find out how to get these dream jobs, then Click Here and learn how to get started.


Why Do Companies Hire Attractive Girls To Promote Their Brands?

Major beverage companies such as Bud Light and Miller Lite spend Millions of Dollars every year Advertising their brands to young male consumers between the ages of 21 to 28.
Beverage companies are constantly competing with other beverage companies to get these same guys to drink their beverages using various marketing strategies...
The best way to get a guy to pay attention to their marketing campaign is to use an attractive girl to grab their attention.
Guys would rather look at a smoking hot Miller Lite girl at a special event than watch a funny Bud light commercial at home with their buddies.
Beverage companies pay promotional models extremely well because they are able to communicate their brands message in an sexy, entertaining way that will stick on the minds of their consumers.

Types Of Beverage Promotional Jobs

Promotional models promote beverages at some of the hottest Night Clubs, Concerts, Sporting Events, Football games and college campuses making sure that everyone is having the time of their lives.
You can become a promotional model that promotes products at events.
You can promote beverages at retail stores.
You can do print modeling for beverage companies and appear in magazines, bill boards or on posters.
You can also do spokesmodeling for beverage companies and sign posters and take pictures with your fans.
No matter the type of job, One thing you will Notice is that All the promotional models on my website have "ear to ear" smiles because they are Getting Paid to have fun and making sure everyone they come in contact with is having a great time.
Can you imagine getting paid to take pictures, meet new people and get a bunch of compliments while you are promoting an exciting beverage?
How much fun do you think it would be to drive around town with your friends in a mini cooper handing out free Red Bull?
You will be begging to become a Red Bull Girl after you watch this video...

Red Bull Girls Riding Around Town Handing Out Free Red Bull
---
If you are interested in promoting a popular beverage and getting paid to party all the time but don't know how to get started, then...

Click Here And Learn How To Get Started Promoting Beverages

---


Requirements - What Does It Take To Become a Promotional Model

You must be at least 18 years old if you want to promote energy drinks and non-alcoholic beverages.
If you want to promote beer or any type of alcohol beverages, you need to be at least 21.
These rules are different depending on where you live and the type of beverage brands you want to promote.
The age limit is different if you live in Canada.
Becoming a beverage promotional model also requires certain natural skills (Sexy, Confident and Very Social).
Your ultimate objective is to get a bunch of people to pay attention to you because if you are able to grab their attention and make them like you, then they will instantly like the brand you are promoting.


Beverage Promotional Jobs Pay Extremely Well

If you want to make at least $500 per week, you need to work a minimum of 20 hrs and that's very possible if you are working with a brand that schedules weekly promotions.
Most major beverage brands such as Miller Lite and Red Bull conduct episodic promotions and experiential campaigns that require you to promote on a consistent basis.

For Example, A Miller Lite market manager will usually set up a minimum of 15 promotions per week during a marketing campaign.
If you are able to work all 15 promotions, you can make up to $900 per week... that's pretty good money especially if you don't have a degree or are currently in school.
Beverage promotional models such as Red Bull Girls, Miller Lite Girls and Bacardi girls can make anywhere from $15 to $40 per hour.

If you love to travel, then you should join a mobile tour promoting your favorite beverage brand, you get paid a lot of money to travel, stay in hotels and promote at various clubs and special events.

If you are the "perfect girl" to promote a major brand such as Miller Lite, Coors Light, Bacardi, Ciroc, Grey Goose, Rockstar Energy Drink, Red Bull and other beverages, but don't know how to get started, then...

Click Here And Learn How To Get Started Promoting Beverages

Get Paid To Travel And Promote Popular Brands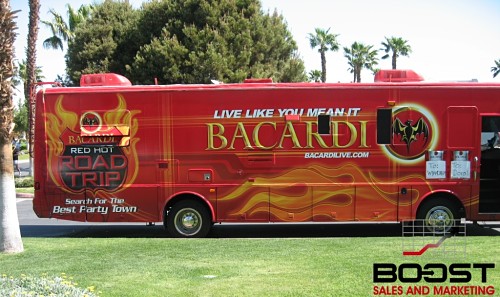 The Reason For Beverage Promotions
Beverage Promotions have one goal and that is to promote the fun lifestyle of the brand to consumers.
A promotional models job is to get people excited about and thirsty for the beverage they are promoting...
Beverage companies want promotional models to have fun when they are informing consumers about their brand so consumers will purchase the brand.
If guys love hanging around the Miller Lite Girls, they are going to become more loyal to the brand when it's time to make a purchasing decision.
If you like teasing, flirting, meeting new people and making money, then you are going to love promoting beverages.
Bacardi Girls Playing In The Pool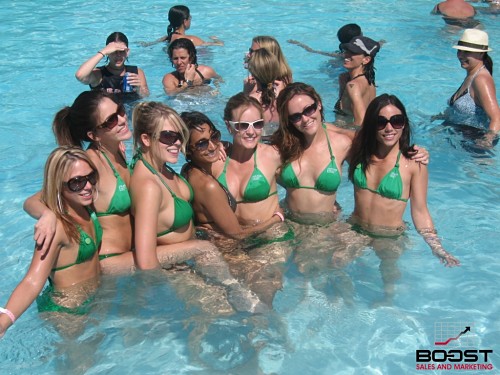 The Bacardi Girls are having so much fun as people jump in the pool to take pictures with them...
Can you imagine being paid $40 an hour to hang out in a pool in sunny Palm Springs, California with your best friends promoting Bacardi Mojito while everyone wants to take pictures with you?



---



Rockstar Energy Drink Tradeshow Models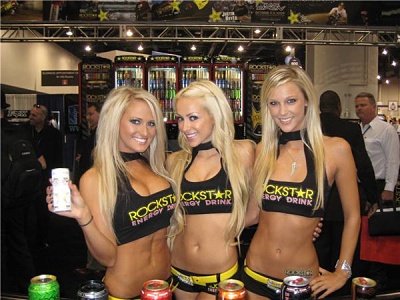 Tradeshow models are professionally trained to get buyers to purchase the product they are representing.
Tradeshow promotional models make more money per hour than do traditional promotional models because they have to get buyers interested in the product they are promoting.
How would you like to get paid to promote your favorite energy drink at a convention or tradeshow?



---


Miller Lite Body Painted Girls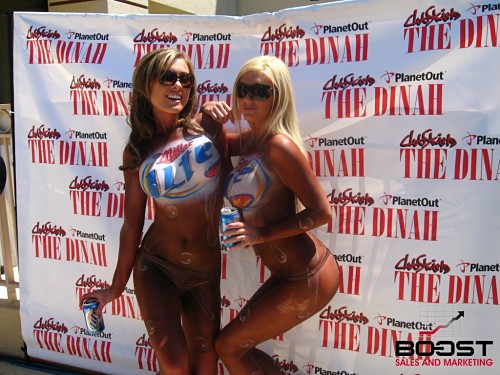 Body Painted Beverage Models Get Paid To Party...

Body Painted Models make hundreds of dollars per hour to entertain consumers at special events and exclusive parties.
Promo models love getting their bodies painted because of all the attention they get and the amount of money they make per event.
When a promotional model enters a party with her body painted, all hell breaks loose.
People look like deers stuck in a headlight. Their jaws automatically drop as they frantically grab for their cameras just to capture the moment.
Beverage companies want people to remember their brand and will spend thousands of dollars to get their logo painted on a sexy promotional model.


Paul Gage (Boost CEO) and Body Painted Miller Lite Models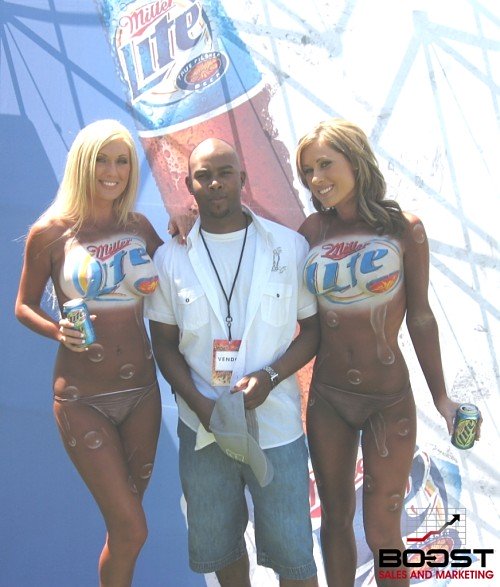 Can you imagine getting paid hundreds of dollars to look this sexy and have this much fun?


Don't even think about all the compliments and attention you would get if you had your body painted with a Red Bull or Bacardi Logo...
You would need security to keep all the hands off of you :)


Watch This Red Bull Girl Getting Her Body Painted
---
---



How To Become a Beverage Print Model

Would you like to be on a Poster or Billboard promoting a Major Beverage such as Rockstar Energy Drink and showing up to special events to autograph posters for hundreds of screaming fans?

Becoming a Model in the Beverage Industry can make you a lot of money. You can make over six figures a year just modeling for some major beverage brands.
Diane and Elaine the Coors Light Twins did it as spokesmodels for Coors Light..

You don't have to be 5'8 or look like the typical fashion model.
Glamour models make perfect beverage models because the typical guy that beverage companies market too love sexy, curvy, next door type of girls...
Once you get your foot in the door and work directly with the beverage brand, you will have the opportunity to do print and commercial work for them.
There is a lot to learn about breaking into beverage modeling, but it is a whole lot easier than trying to be a fashion model that requires you to be a certain size.

If you have the looks that make guys and girls take a double look, then you should consider modeling for beverage brands.


Melissa Posing For Beverage Billboard

Click Here and Learn How To Become a Beverage Model





Return from Promotional Models to Home Page