Boost Your Beer Sales and Distribution using Proven Techniques
Boosting your beer sales can be achieved by using some proven techniques that I have developed over my career in the beer industry.
I consistently boosted the beer sales for Coors and Miller Brewing Company using out of the box strategies.
In order to boost your beer sales, you first need to know who your targeted consumer is and where they purchase your beer?
The majority of beer sold in c-stores are usually on the weekends starting on Friday at 5pm.
If you are trying to boost your beer sales in a convenience store than you want to make sure that the retailer has your beer in the cooler and on the floor.

Drawing Attention to Your Beer
Floor displays are great advertisements for your beer because when a consumer walks into the retail store, a display of beer is usually the first thing they see before they go to the cooler.
Beer Displays are also a great reminder to shoppers to purchase some beer...
Most purchases in a convenience store are unplanned and are impulsed buys, therefore a big floor display says buy me over your competition.


Boost Your Beer Sales using Sales Promotions

Sales promotion targeted at consumers consist of:

• Price Specials
• Coupons
• Contest
• Promotional Gifts
• Interactive Games
• Cross Promotions with Food
You can offer various incentives to the retailer to promote your beer. These incentives can be in the form of coupons, free cases or money per case sold.
You can also offer various incentives to their employees to promote your beer. The incentives could be money per case or a gift certificate for the employee who sells the most cases.
You can also give the employees promotional items such as bottle openers, hats and T-shirts.
It's extremely important to get an employee motivated to tell shoppers about your beer.



---
---


Point of Sale Material
When entering an account, is your Beer seen before your competitors?
Do consumers already know that your beer is sold at the account before they enter the account?
Drawing attention to your beer can be created by using exterior signage such as window neons, pole signs, banners and gas pump toppers.
There are different types of Beer point of sale for each of the accounts you are promoting your beverage at.


Marketing Your Beer at Convenience Stores
You can put window clings on cooler doors or you can put up themed posters on floor displays drawing attention to your beer.
Your beer signage must be clean and professionally done. Make sure the price feature is visible enough to make consumers stop and evaluate your offering.
You do not want to put up all this nice signage and forget to put a price on your display or outdoor signage.
Beware that your competitors will try to remove or damage your POS, but that is a battle you will constantly have when you are successful.
If you want to reduce this from happening, then it is important to have nice POS that the retailer perceives to be valuable.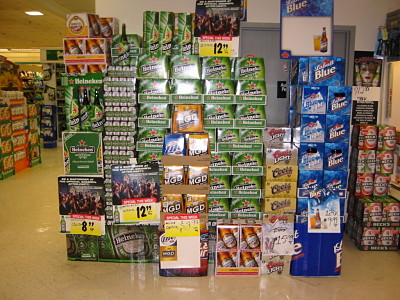 On-Premise Beer Promotions
The best POS to place in a bar or restaurant would be some type of attention getting Permanent POS such as snowboards, wooden table tents and neons.
You can also place non-permanent POS such as branded napkins, coasters and paper table tents that advertise a price special.
Here are some Miller Lite Surfboards I placed at Hooters in Santa Monica, CA.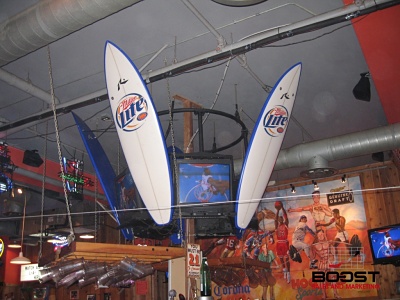 Distributor Support is needed to Boost Your Beer Sales
What are you doing to support the distributors sales team to encourage them to sell more of your beer at their accounts?
One of the fastest ways to boost beer sales is to increase your distribution and promotional activity.
You can increase distribution by offering incentives to the distributors sales reps.
The incentives can be money per case or a contest to win a trip.
Whatever the incentive is, it must be valuable enough to motivate the sales reps to compete for.
Believe it or not but there are some incentives that are not worth the effort and the reps will not promote your beverage.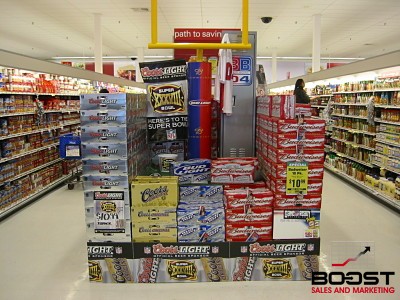 Beer Promotional Girls will Boost Your Beer Sales and Distribution
Using Attractive Beer Girls to promote your beer is a great way to build your Beers image and boost your Beer Sales.
Beer girls are able to achieve this because they are able to gain the attention of your targeted consumer at special events or retail accounts and persuade them to purchase your beer.
On-Premise accounts will feature your beer if you use a team of sexy beer girls to promote the Beer Feature on a good night.
Bar owners are thankful when you help them increase the traffic to their accounts by providing beautiful Beer Girls to entertain their customers.
When choosing beer girls, make sure they are attractive and are able to persuade a consumer to try and purchase more of your beer.
Your Beer Girls must be the best looking girls in the accounts especially since you are paying them to be there and represent your brand.
Watch your beer sales soar while you have attractive beer girls promoting your beer in your top on-premise accounts.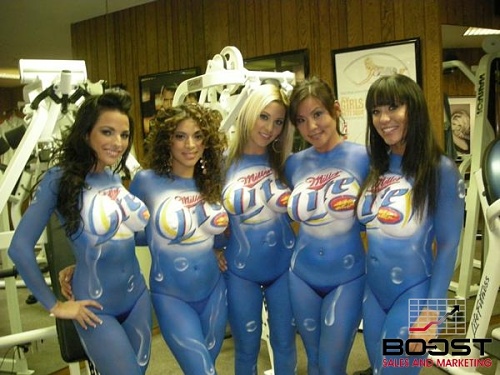 Click Here To Contact Me If You Want To Boost Your Beer Sales!


---
---
Return from Beer Sales to Home Page