7-Eleven Can Make You a Millionaire: Discover How to Sell Your Product To 7-Eleven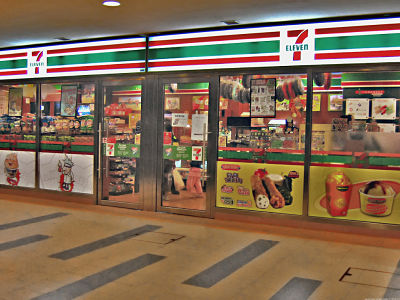 7-Eleven, the worlds largest c-store chain is one of the best c-stores to launch a new product in because they like to offer new innovative products to their consumers.
7-Eleven and other convenience stores are great retail locations to sell your new beverage to because of the product turn rate due to foot traffic.
7-Eleven is known to try new products because they understand their customers visit their stores to discover the newest products on the market.
5 Hour energy made $58 million dollars in sales their first year!! The majority of their sales came from 7-eleven and that was the first convenience store to carry their energy shot.
Have you noticed all the energy related beverages that are in 7-Eleven?
The manufacturers of those beverages are making millions of dollars every year because of the enormous foot traffic 7-Eleven is able to generate.


7-Eleven, Inc. is the World's Largest Convenience Store Chain

Based in Dallas, Texas, the company operates, franchises or licenses more than 10,000 Stores in North America - 8,000 in The United States - 50,000 Stores Globally - just imagine the amount of volume you could do in a 7-eleven account
7-Eleven opened a thousand new stores last year...
1 new store opens every 2 hours globally.
By 2020 They plan to have 80,000 stores World Wide
Opened 50,000th Store in March 2013
They service 25 million customers a day globally
9 Billion Transactions a year...
7-Eleven's business model is unique in that the company helps franchisees manage their business.


So How Can You Get 7-Eleven To Carry Your New Beverage?
There are multiple ways of getting in contact with a 7-Eleven buyer.
You can call their corporate headquarters and ask to speak to the beverage buyer.
They also have a form for new vendors to fill out on their corporate website.
You can also get your beverage into 7-Eleven by selling your beverage to their preferred distributors, such as McLanes and other independent beverage distributors.


Sell Your Product to a 7-Eleven Wholesaler

McLanes is a $30 billion dollar supply chain services company, providing distribution services to thousands of convenience stores including all 7-eleven corporate and franchisee stores.
There are other distributors and wholesalers that can sell and deliver your new beverage to 7-Eleven.


Contact a National Broker That Has A Relationship with 7-Eleven
Advantage Sales and Marketing is a national brokerage sales company that calls on thousands of national c-store chains.
There are also other brokers and wagon jobbers that are authorized to sell products to 7-eleven.

7-Eleven is in the business of franchising
Getting an Authorization from 7-eleven does not mean all their stores will carry your product.
They will issue you an authorization meaning that your product is in their system and their franchise stores can order your product if they want to.
You still have to call and sell your product to their independent owners if you are selling your product through a wholesaler like Mclanes.
If you have a DSD distributor selling your product, then their sales reps will visit all the 7-Elevens in their territory and sell your product in.
So don't think you will gain national distribution in all their stores just because you receive an authorization...it's up to their franchise owners to order your product.


7-Eleven like all convenience stores are looking for new innovative beverages that will allow them to make a high margin and high velocity.
Functional Beverages are perfect for 7-Eleven because convenience store consumers are looking for beverages that provide a benefit such as a boost in energy.
Functional beverages also provide the retailer with a high margin.
7-eleven would like to make a 40 to 50 percent margin on a new beverage. This is always negotiable depending on the level of support and incentives that you offer them.

Do you have a unique product and Need help presenting it to a 7-Eleven Buyer?

Contact Me Today and Learn how you can get your new product into 7-Eleven







Return from 7-Eleven to Home Page