Become a Beverage Spokesmodel and Get Paid to Party
A Beverage Spokesmodel gets paid more money than a traditional promotional model that hands out beads and samples product at grocery or liquor stores.
Beverage brands such as Monster, Coors Light and Miller Lite all hire professional spokesmodels to represent their brands at major events.
Spokesmodels can be celebrities or local girls that are well known in the public.
Some brands hire spokesmodels just to sign posters at car shows, boxing matches, races and other special events.
A spokesmodel does the same thing a regular promotional model does but with the exception that she gets paid so much more because she is the face of the brand and has to travel to special events.
Beverage spokesmodels must be able to communicate a brands message effectively.

Paul Gage (CEO of Boost) with Coors Light Spokesmodels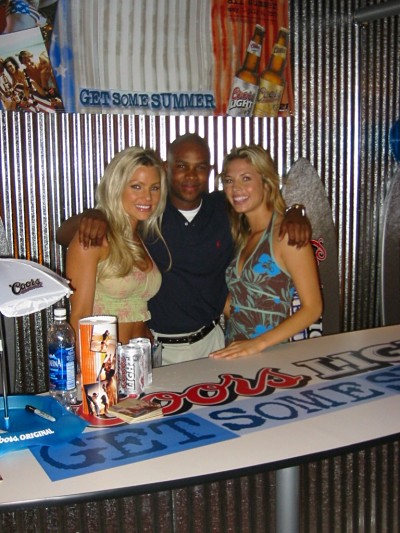 Most spokesmodels that you see are usually in magazine ads or on TV promoting the brand.
Spokesmodels appear at a companies meetings, sporting events and tradeshows to get people excited about the brand.
Becoming a beverage spokesmodel is actually more fun than being a runway model. You get to meet fun and exciting people, go to special events and you get to travel to exotic locations on magazine shoots.
Major brand spokesmodels get 6 figure contracts and best of all, you do not have to be 5'10 and stay on a strict diet.

Beverage Spokesmodels make a lot of money to entertain corporate clients and their guest by signing autographs, taking pictures and providing a sexy atmosphere. ex. The "Coors Light Twins"
Diane and Elaine made thousands of dollars per day to appear at various Coors Light Sponsored Events. They were the sexual appeal for Coors Light.

Paul Gage with Diane and Elaine the Coors Light Twins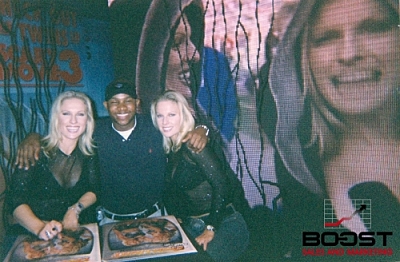 Click Here To Become a Beverage Spokesmodel
Return from Spokesmodel Page to Promotional Modeling Page to Apply