Promotional Model Jobs - How To Get Started Promoting Beverages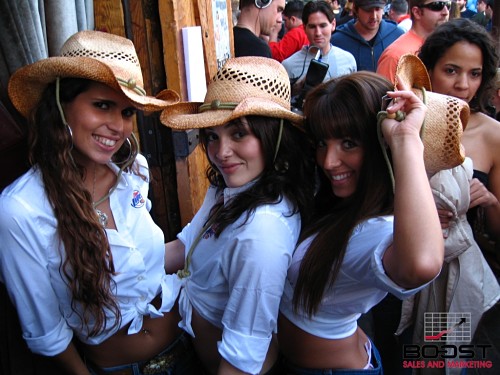 Beverage Promotional Jobs are some of the best modeling jobs to have because they pay really good, they are extremely fun and you get to meet new people.

Becoming a beverage promotional model for a major beverage brand such as Red Bull, Miller Lite, Monster Energy, Rockstar Energy Drink and other beverages can be challenging if you don't know how to get started.

Once you learn how to get started, you can make a lot of money and have the time of your life.
For Example, Bianca, Shannon, Liron, Marina and Nicole in the below photo made $30 per hour.

Paul Gage and The Miller Lite Promotional Models in Hollywood





So How Did Demi Become a Monster Girl?

Demi became a Monster Girl because she was able to contact Kelly the model manager for Monster...
She knew exactly the right type of photos to send Kelly in order to get an interview...
Demi simply got hired over all the other girls because she knew what to say to impress Kelly during the interview.




Carla followed the same advice I shared with Demi and she is now traveling with Monster and appearing in the ring for Corona at major boxing events...





All the valuable information, tips and advice in my book not only helped Demi and Carla get an amazing job with Monster, Corona and other beverage brands, but it will quickly help You get started even if you don't have any promotional modeling experience...

There's a lot of extremely important information that you will learn in my book that will help you get a beverage promotional job.
Just take a few minutes and click on the eBook so you can see the topics you need to learn to get a beverage promotional job.


Click On The Book And Preview The In-Depth Chapters



Get Started Quickly With My List Of Over 170 Agencies

You will get a list of over 170 Promotional Agencies and Model Managers that hire beverage promotional models such as Red Bull Girls, Monster Energy Drink Girls, Miller Lite Girls, Heineken, Corona, Grey Goose, Rockstar Energy Drink and hundreds of other beverage promotional models...

This book will teach you exactly what to submit and say to get these model managers to interview you.
You will also learn all the possible questions they will ask you in the interview. I also show you what to say that will impress them and make them want to hire you.


---


P.S. The reason I wrote this book was because I Know You Need It

There are thousands of girls that want to become beverage promotional models and You need to stand out if you want to get hired before them.
Promotional modeling 101 will show you everything you need to do and say to get hired over girls that have years of promotional modeling experience.





Promotional Modeling 101 is immediately available to download for...


Only $9.95
Within seconds of your approved payment, you will be directed to a secure page where you can instantly download Promotional Modeling 101 and other bonus e-books.
Ordering from Boost Sales and Marketing, LLC is completely safe and secure as I have partnered with the most trusted name in providing utmost security to the e-commerce industry: PayPal
100% Satisfaction or Your Money Back - If you are not satisfied for any reason, you have 60 days to get a full 100% refund.
Your refund will be issued through PayPal, so you have nothing to risk.
If for any reason you do not get directed to secure page, contact me immediately.
You can contact me directly on my facebook page or through this site.



Sincerely,
Paul Gage

CEO of Boost Sales and Marketing, LLC






Return from Promotional Jobs to Promotional Models Page