Convenience Stores: How To Sell Your New Product To C-Store Retailers and Distributors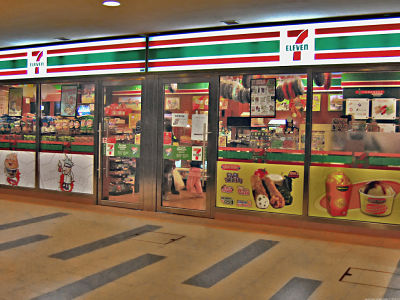 Selling your new beverage or unique product to convenience stores is extremely lucrative when you understand all the opportunities and alternative ways to get your product into thousands of independent and chain c-stores...
There are over 149,000 C-stores in the US... with the majority being single-store operators.
The convenience store industry continues to be dominated by single-store operators, which now account for 62.9 percent of all convenience stores (93,819 stores in total), with a growth rate of 0.7 percent matching the industry's growth.
New, Innovative Products are the lifeblood of all convenience stores because new products drive incremental traffic to their stores.
C-stores are pioneers of new products and are able to get your new product to market faster than any other retail channels.


Why Do C-Stores and Beverages make such a good match?

Beverages are considered one of the fastest selling items in a convenience store accounting for over one third of overall c-store sales.

The majority of new beverages are first trialed in c-stores because they can be purchased cold and in single serve packaging.


Convenience Stores are Everywhere!
The U.S. convenience store count increased to a record 149,220 stores as of December 31, 2012, a 0.7% increase (1,094 stores) from the year prior, according to the latest NACS/Nielsen Convenience Industry Store Count.
An average store selling fuel has around 1,100 customers per day, which equates to more than 400,000 per year.
Just imagine the amount of volume you can move if your product is in-front of 1,100 customers per day in just one location.
Cumulatively, the U.S. convenience store industry alone serves nearly 160 million customers per day, and 58 billion customers every year.
Convenience stores continue to grow as more and more c-stores add food-service offerings to attract new consumers.


How To Sell Your Product to a C-Store

Selling your new product to a c-store requires you to get your product in front of the retail buyer or store owner.
There are multiple ways of getting your new product in front of a retail buyer or c-store distributor.
One of the best ways is by attending a c-store tradeshow.
NACS is the largest convenience store tradeshow in the US.
You can use Brokers, DSD distributors, wholesalers to sell your product to independent and chain stores.
You can also Advertise your product in Trade magazines such as Bevnet, Cstore Decisions or CSP. Retail owners and distributors read these trade magazines to find new products and ideas to grow their business.
A method that I used to sell millions of units in the first year to thousands of c-stores was the good'old fashion way of picking up the phone and calling the retail buyers directly.


Click here if you would like to sell your new product to thousands of c-stores at a Tradeshow


How to Go To Market and Sell Your Product To C-Stores

There are so many ways to get your product on the shelf of independent and convenience store chains.

The fastest way to sell your product to thousands of c-stores, is to use an established wholesaler, distributor or buying group.
You need to leverage their relationships to place your product in the retail accounts they are currently servicing.
There are broad line distributors such as Mclanes and Core-Mark that specialize in delivering various products to c-stores.

DSD beverage distributors are considered the best distributors to go to market with for a new beverage product because a new beverage needs to be properly merchandised in a retail account.
Beer Distributors are experts at delivering beverages to c-stores and their in-store execution is amazing.


---
---
Working With Beverage Distributors and Wholesalers
If you have a new beverage, it's critical that you use a distributor that specializes in distributing beverages.
Knowing that you have to compete against so many large beverage companies that have sales reps that don't want your new beverage taking up shelf space, means you need to have a distributor that can service and merchandise your beverage.

If you have a difficult time getting a beverage distributor to carry your product, then you may have to distribute the product yourself or use a wholesaler that typically distributes non beverage products.
You can also use a food-service distributor that sells food and snack items to c-stores.

At the end of the day, you have to use the right distributor to distribute your product, sell your product to their accounts and ultimately get consumers to purchase your new beverage.

P.S. Just because you get a distributor to distribute your product, does not mean you get instant account distribution.
Distributors want suppliers to sell their product to their existing account base while they focus on delivering and merchandising your product.





C-Stores are the battle ground for all New Beverages
When I worked for Pepsi Bottling Group, I competed everyday against the Coke and Dr. Pepper Rep. It was important for me to be the best in the retail account because I made more money by selling more beverages.
The Big Beverage Giants train their sales reps to destroy any new product that shows up in their retail accounts.
95% of new beverages don't just fail because they don't have enough marketing dollars, they fail because of in-store execution... feet on the street or aggressive sales people like myself.
If you don't know how to properly merchandise your product in a c-store, you aren't going to optimize your sales.
Knowing where to place your product in a cooler will determine how successful your product is going to be.
It doesn't matter how great your new beverage taste or how great your marketing plan is if you don't have people in the stores fighting for shelf space and position.
Gaining displays and great shelf positioning can only happen when you have great reps that understand in-store marketing and also know how to build a great relationship with the retail staff.


I might make it sound really easy selling a product to a convenience store but you have to realize that I have been trained by the best (Pepsi, Coors and Miller Brewing Co.)


If you have a new product that you want to place into thousands of c-stores but not only get on the shelf but actually fly out the store, then I highly suggest you contact me.



Click Here To Contact Boost Sales & Marketing


Convenience stores in the United States:

• Convenience Stores: 149,341

• Supermarkets: 36,149

• Drug Stores: 37,409

• Mass Merchandiser/Dollar Stores: 28,326

• Superettes: 13,142


Top 10 States for Convenience Stores (as of 12/31/10)
• Texas: 14,466 stores
• California: 10,581
• Florida: 9,348
• New York: 7,729
• Georgia: 6,434
• North Carolina: 6,196
• Ohio: 5,278
• Michigan: 4,828
• Illinois: 4,533
• Virginia: 4,509



---
Top 15 Convenience Stores
1. 7-Eleven Inc
2. BP North America
3. Shell Oil Products US
4. Exxon Mobil Corp
5. ChevronTexaco Corp
6. Alimentation Couche-Tard
7. Speedway SuperAmerica LLC,
8. CITGO
9. Sunoco Inc
10. The Pantry Inc
11. Valero Energy Corp
12. Casey's General Stores Inc
13. ConocoPhillips Inc
14. Hess Corp
15. Kroger Co



---
Top 15 Convenience Store Wholesalers
1. McLane Co.
2. Core-Mark Holding Co. Inc.
3. Eby-Brown Co.
4. H.T. Hackney Co.
5. GSC Enterprises Inc.
6. S. Abraham & Sons Inc.
7. Amcon Distributing Co.
8. Harold Levinson Associates Inc.
9. Chambers & Owen Inc.
10. Imperial/Harrison Super Regional
11. Garber Bros. Inc.
12. J.T. Davenport & Sons Inc.
13. Consumer Product Dist. Inc.
14. Liberty USA Inc.
15. Stephenson Wholesale Co. Inc.





Return from Convenience Stores to Home Page